Beginning of the year can be an exciting time for teachers and students alike. These school bus activities are perfect for counting, crafting, literacy and more!
Have you used chain links in your classroom? These plastic links are very cheap and easy to buy in bulk (source below). Buy a whole set for a tub full of links and your students will GO crazy for them.
Grab this counting printable at the end of this post!
School bus activity for kindergarten
Counting activities are a great way to help your students learn how to count.
Counting is an important skill for young children to learn. It helps them develop math skills, understand numbers, and build confidence in their abilities.
The beginning of the year in kindergarten is a great way to review counting skills.
Kids love counting activities because they make it fun and exciting. They also enjoy being able to show off their new found skills.
Get kids excited about back to school
Before you know it, we'll be seeing our kids off as they get on the bus and head off to school. I have been trying for weeks to get my kids excited for back to school.
The idea of having to go back might not be so fun for some kids, but these crafts will help make back to school a little more exciting!
Here are 15 back to school bus activities.
Bus Counting Game
This simple game is easy to prep for. Just grab your printable cards along with some plastic links.
I like using these bulk ones, then have the kids pick a card, and start matching one to one to build links and match the number.
Pick up these FREE cards at the end of this post.
Free school bus link chain cards, get the printable at the end of this post.
Shoe Box School Bus
This super cute shoe box school bus craft will suit preschoolers and kindergarten kids alike. You can do this at home with leftover tissue or shoe boxes. Grab the idea from Craftulate.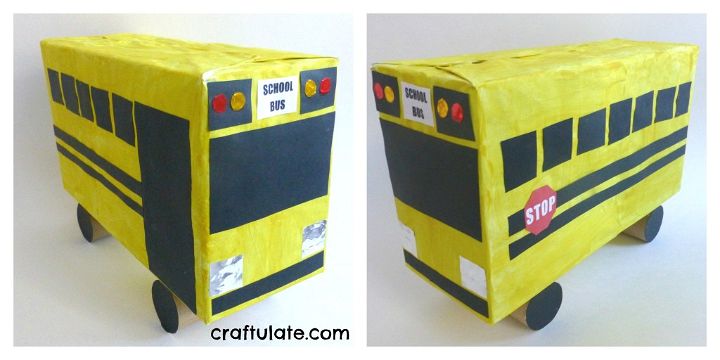 Box car Tutorial
If you want to teach kids how to build a car or a truck, this tutorial is the perfect example. Grab the idea from Keriene.
Bus craft for preschool
This super cute back to school bus activity is perfect for preschool or your kids at home. Just use recycled materials and you're good to go! Grab this from Little Learners.
Recycled Bus Craft
This is a super cute craft made with an egg carton or any old box. Find out how to make it here at Free Kids Crafts.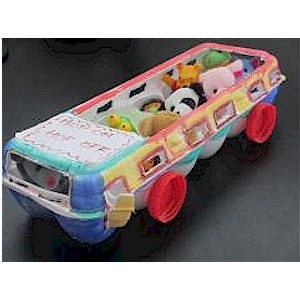 Egg Carton School Bus
This simple egg carton bus activity can be made using old egg cartons or even a box. Check out how to make it here.
Paper School Bus
Our Craft and Things made this super cute bus with her toddler. This activity is easy to create with preschoolers and little learners.
Milk Carton School Bus
This super cute craft can be made using old milk cartons. Get your kids to paint and color it, add some decorations and you're done! Find this at Mom to Posh Lil Divas.
School Bus Name Craft
I'm all about name crafts and activities here on this blog and Totschooling has the cutest activities for young toddlers and preschoolers. Check out this activity below, it's a must do!
Craft Stick Name Bus Craft
This craft is easy to create with craft sticks and some glue. The best part about it, is that you can personalise it with anything you feel is important to your child, their names and more!
Find this at Hip to Save.
Paper Plate Bus Craft
Paper plate crafts are so much fun and kids LOVE them, why not make this super fun paper craft and talk about what buses do with your kids? Find this at Glued to my Crafts Blog.
Easy School Bus Craft
This crafts is another one that toddlers and preschoolers can do easily with crafting materials you have on hand! Find this at Happy Home Fairy.
Shapes Paper Plate Craft
Teach kids all about shapes with this super fun bus craft. Find the activity at Honey and Lime.
More back to school activities:
School Bus Activities Counting Fun with links
Ready to try these activities with your children or students?
Download your FREE set below. Please note however that:
This is for personal and personal classroom use (to share this resource, please direct others to this post to grab their own free copy)
This may NOT be sold, hosted, reproduced, or stored on any other site (including blog, Facebook, Dropbox, etc.)
All materials provided are copyright protected. Please see Terms of Use.
Graphics Purchased and used with permission