Looking for some easy bees crafts for multiple age groups? Get ready for the spring and summer season by adding these fun bee activities and kids crafts to your learning routine and centers.
These activities are a great way to practice fine motor skills as well as literacy and numeracy skills.
>>> Want more spring themed worksheets and printables? Grab the FULL Spring Busy Book Binder here for toddlers and preschoolers. <<<
Adorable Bees Crafts with Materials from Home
There are a lot of ways to make crafts with bees. You can use the wax, honeycomb, or even the paper from the hive.
#1: Make a Bee Mask
Looking for some cute summer or ocean themed whale crafts? These crafts are very easy to assemble and even toddlers can make them! . All you need is some paper, glue, and paint. Paint the paper yellow and let it dry. Cut out strips of black construction paper and glue them to the sides of the mask to look like antennae. Add on some googly eyes and you're ready to go!
#2: Make Honeycomb Picture Frames
Cut out squares of yellow construction paper and glue them together in rows until they form a honeycomb shape. Glue this onto your picture frame so it looks like it's filled with honeycombs!
Crafts are a great way to teach children about the world around them. It is a way for them to explore their creativity and learn about the world.
My favorite crafting materials and products from Amazon:
Crafts can be done in groups, with one child leading and the others following. One of the most popular crafts is making bees out of paper plates or toilet paper rolls by cutting out wings and antennae. This craft can be done with preschoolers or kindergarten students as it is very easy to make.
Click on each link below to check out some awesome bees crafts for any age group.
This toilet paper roll bee is so simple to make. Just make sure you are saving your toilet rolls (heck I have a huge portion of them now because I simple don't throw anything out haha). This craft by Easy Peasy and Fun is so clever! Head to her website to learn how to make this craft.
2. Pool Noodle Bumble Bee Craft
This super cute pool noodle bumble bee craft is an easy one to create with just pool noodles and some craft paper. The kids will LOVE this one, they will especially love using the pool noodles.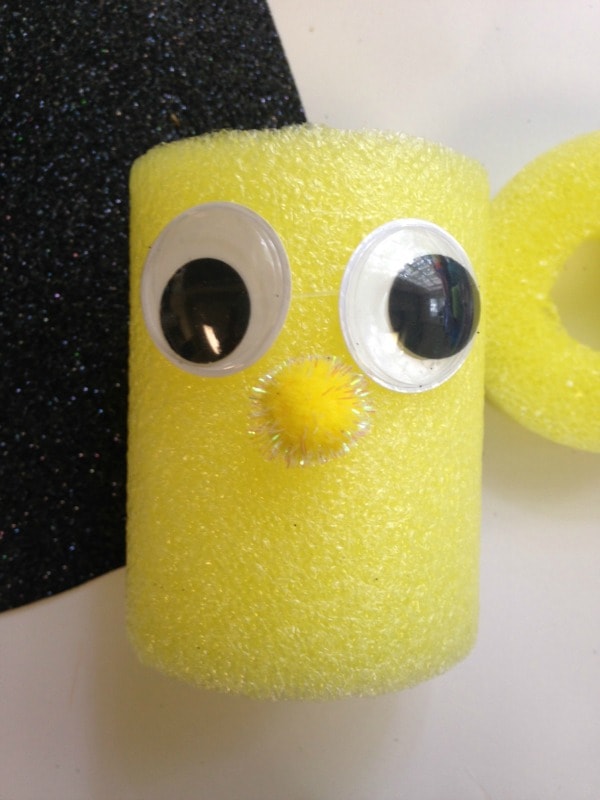 Bee a Good Friend Craft
3. Bee Footprint Kindness Card
I'm all for kindness crafts and activities on this blog, just check out some of these kindness worksheets and printables here:
This adorable bee paper craft is the perfect addition to your preschool or even homeschool. The best part about this bee craft is that it's simple to make!
This super clever craft from Red Ted Art is such a fun one to make. Kids will love the hands-on 'shooter' aspect of this little bee craft. FInd out how to make it by heading to the post!
What a super cute bumble bee craft! Have tissue paper on hand? Grab some along with some glue and simple coloring crayons and markers to make this paper craft.
Finger puppets, also known as hand puppets, are small hand-held puppets that can be manipulated with a finger or hand. They are often used in storytelling and in preschool education.
Finger puppets have been used for centuries to teach children about the world around them.
They allow children to explore their creativity and imagination by acting out stories with the puppet. Finger puppets can be made from many different materials including felt, cloth, yarn, paper, and plastic.
Check out this super cute finger puppet craft from A Dab of Glue Will Do.
This adorable egg carton kids bee craft will have all the kids engaged, do you have a lot of egg cartons laying around? Use them for these crafts! Learn how to make this craft from Buggy and Buddy.
A thumbprint painting is a type of art that you can make with any kind of paint, depending on what you want to do.
This type of art is not just for kids, adults can also make them!
You will need some paper, a brush and some paint.
Check out how to make this craft by heading to the Artsy Craftsy Mom's website.
This super cute fuzzy bees craft will get your kids working with their hands to create mini bees.
Check out how to make this craft from I heart Crafty things.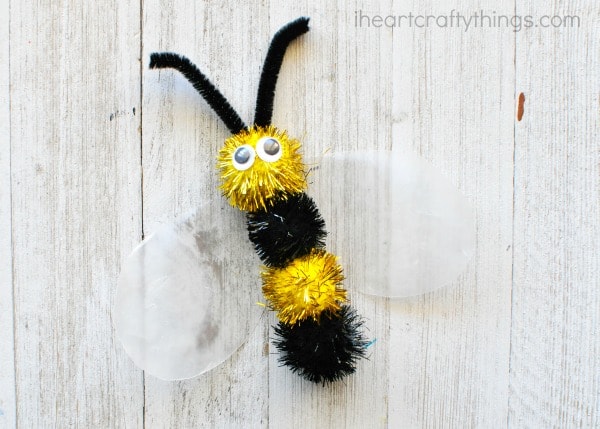 A lot of people nowadays are recycling items to make crafts. This is a great way to reuse old stuff and make something new out of it.
Especially if you're a mom, re-using old materials like toilet rolls, paper towel rolls and more is a great way to recycle items AND teach your kids how to appreciate any item they have at home.
It is a good way for brands to give their customers a chance to help the planet, while making something beautiful and unique.
Crafts made with recycled materials also usually cost less than crafts made with new materials.
Check out this super cute bee craft made with pine cones – that's right! Pine cones!
Have lots of paper plates laying around? I recently used paper plates to make this super popular and SIMPLE (best of all) solar system craft.
Paper plates are wonderful additions to your crafting centers. Head to Messy Little Monster to see how you can make your own.
This little kids craft is also super simple to make. Head to I Heart Arts and Crafts to make this paper bees Crafts.
The use of recycled items for crafts is a way of using items that would have otherwise been thrown away and turning them into something new.
People who enjoy crafting with recycled materials can find many different ways to incorporate their creations into their lives. They are also able to share their work with others in the form of gifts, or they can use it as a creative way to decorate their homes. Not just use them with kids!
I hope this list of Bees Crafts were something you found valuable to add to your collection of bee themed activities. Check out some more crafts below that you might like!