Kids love learning all about chickens, they especially love to learn all about the chicken life cycle. Find 5 SUPER fun printables and activities to teach chicken lifespan through this post!
Science is such a FUN topic to teach.
Chicken Fun Facts
A chicken is born from an egg. It is incubated for about 21 days and then hatches. The chick will take about a day to dry off and will be ready to go outside in the next couple of weeks.
What makes a chicken unique?
Chickens are the only bird that has feathers on their legs, wings, and tail. They are also the only bird with claws on their feet.
Here are some super fun facts about chickens that kids will love:
Chickens are the most common type of poultry in the world.
The chicken is a type of bird that has feathers, wings, and a beak.
The chicken was domesticated by humans around 10,000 years ago.
Chickens are kept by humans for their meat and eggs.
Here are the chicken life cycle stages:
The chicken life cycle is a complicated process, but it can be broken down into 7 stages.
1. Incubation: The eggs are incubated by the mother hen for 21 days at a temperature of 99.5 degrees Fahrenheit.
2. Hatching: The chicks will hatch from the egg after 21 days and they will have to be cared for until they are old enough to eat on their own.
3. Feeding: The chicks will need to be fed with a high protein feed that is specially formulated for their needs and they need to be fed with it 3 times a day because they grow very quickly in this stage of the life cycle.
4. Brooding: This stage lasts from 2 weeks to 6 weeks, depending on the breed of chicken.
Chicken Life Cycle Worksheets and Activities
I love the crafts that come with teaching life cycles. They are visual and so much fun for the kids! Here are 5 awesome activities I've rounded up from Pinterest and they're FREE!
Chicken lifespan puzzles made by the Sea of Knowledge. I love incorporating puzzles wherever I can when teaching a new concept and chicken life cycle is a perfect way to pull out these super fun matching puzzles.
Kids will need to read what is on each piece to match it to the corresponding card to make a full matching puzzle piece.
Grab these puzzles at the bottom of this post!
2. Chicken life cycle posters – these are absolutely AWESOME and describe each part to the life cycle process. They from Peggy Means and you can get them from this Chicken Life Cycle Posters Peggy Means.
3. Chick Anchor Chart/Poster: This activity is a great anchor chart or poster to build and keep in class. Find the link here at Miss Laws Kinders Chick Anchor Chart.
Poultry Farm Chicken Lifespan
Farm chickens are usually a cross between a White Plymouth Rock and a Rhode Island Red. These chickens are bred for their meat, which is known to be tastier than store-bought chicken. Chickens are often used in the production of eggs, but these chickens are not as popular for this purpose.
Kids are particularly interested in chicks, they love the look of chicks and what they do.
Chicks are baby chickens.
Chicks are the youngest stage of a chicken's life cycle.
I love this super cute chicks craft for kids, a great way to learn all about the chickens.
4. Life cycle craft paper plate: this is a great craft and an easy one to make with materials you most likely have laying around! Get the link from I Heart Crafty Things.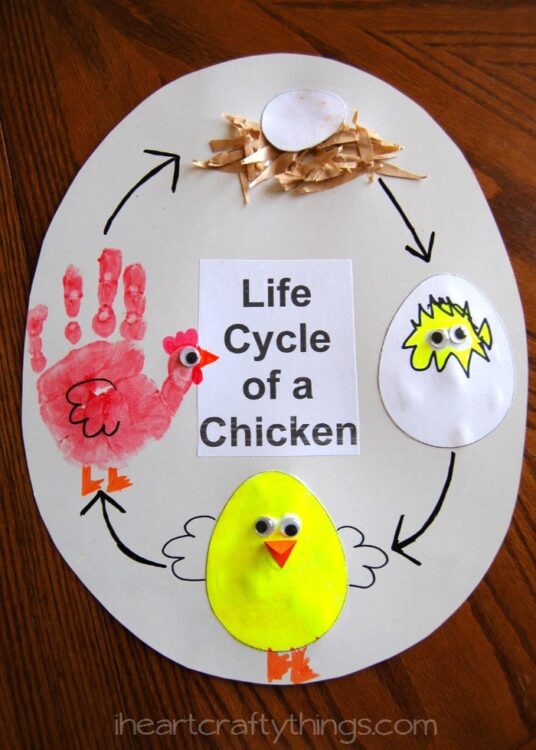 5. Chicken Lifespan Interactive Wheel: this activity is so much fun! Kids will love the interactive aspect of this activity. Find it over at TPT chicken life cycle wheel.
The chicken's life is the process of growth and development undergone by a hen from the moment it hatches until it reaches maturity.
Some people think that chickens are just egg-laying machines, but they're actually social animals with personalities. Chickens have a variety of fascinating behaviors, like dust-bathing and pecking at one another's feathers.
Kids will LOVE learning all about chicken life cycles with these printables and posters, I hope they've been useful to you.
Chicken Lifespan Puzzles
Enter your details below to download the chicken life cycle puzzles directly!
Complete your name and email to receive free item.
This may NOT be sold, hosted, reproduced, or stored on any other site (including blog, Facebook, Dropbox, etc.)
All materials provided are copyright protected. Please see Terms of Use.
Graphics Purchased and used with permission
I offer free printables to give to my readers AND to provide for my family. Your frequent visits to my blog & support purchasing through affiliates links and ads keep the lights on so to speak. Thanks to you!
I agree with the
Terms & Conditions