Looking for some Mother's Day Activities for Toddlers? Mother's Day is a special day to honor mothers and all that they do for their children. Grab some super easy and FUN mother's day crafts that are simple, easy and can be made by young kids and toddlers.
The holiday is celebrated in many countries around the world, with some countries celebrating it on different days of the year.
Some popular Mother's Day activities for toddlers include making mom a card and giving her a special breakfast in bed. The best part about these mother's day crafts is that some are based on sensory activities, so you can definitely incorporate these with your toddlers.
Other fun activities include going to the park or taking mom on a walk, which are great ways to get some exercise while spending time with your mother.
Ways to celebrate mother's day with kids
There are so many ways to celebrate mother's day, some of which are…
Mother's Day is a day to show appreciation for the one who has always been there for you. This is the perfect time to show your mother how much she means to you and how much she has done for you.
Mothers are special people who deserve their own day of celebration. In this article, we'll take a look at some ways that you can celebrate Mother's Day with your kids.
The first way to celebrate Mother's Day is with a homemade gift. If you don't know what they would like, then make them something that they would enjoy and something that shows them just how much they mean to you.
Next, consider taking the whole family out on an outing or doing something fun together. You could also plan a dinner at home with the family or invite some friends over for a game and dinner.
Mother's day gifts and fun ideas
If you're looking for some ideas to buy for your own mom, I'll cover some ideas in this section.
Is mom an avid reader? Consider gifting her with a book or two from one of her favorite authors.
Does your mom like crafts and cooking, consider getting her something like a set of measuring cups or an herb garden kit.
If your mom likes gardening, a new pair of gardening gloves would be perfect! And if you're looking for something a little more creative and crafty, check out some experiences to spend quality time with your mom. Homemade gifts in mason jars are also a sensible idea (some of those are listed below).
Moms always love a homemade card, so consider getting her something she will cherish forever, especially with these mothers day crafts below.
Fathers will love these dad handprint poem crafts here.. Even older kids could enjoy these handmade easy mothers day craft ideas.
They could even make these gifts together with younger children.
Here is a list of handmade gifts for mom (the picture frame is a special one I know she will love).
Mother's Day Activities for Toddlers
If you have toddlers in the house, it can be particularly harder to plan safe activities, I've gathered some of the ideas below and they are a great way to spend a great time with younger kids while doing fun things they will enjoy along with learning by spending a crafty morning doing art projects. These toddler approved crafts are a fantastic gift for you if you're a mom or to a mom you know.
It's a perfect gift to involve all family members, pick up some free printable template ideas within the links too if you decide on making one of the crafts.
Here is a short video on 9 Mother's Day Gift Ideas you can simply make at home:
Easy Mother's Day Gift Craft Ideas
It is always a good idea to celebrate mothers day by presenting them with a gift. It can be as simple as a card or as elaborate as a new house. But for those who are not so creative, here are some ideas that you can use.
Mother's Day is a day to celebrate all of the mothers in our lives.
In honor of Mother's Day, we have put together a list of crafts that you can do with your child and mother.
These crafts are made with simple supplies and can be done in an hour or less.
We hope that these crafts will help you to create memories with your mother this Mother's Day!
Handmade Keychain for Mom: this keychain is so simple to make, if you're working with young kids and toddlers, just be sure to supervise because it can get a little tricky having them not put things and small parts in their mouths. Check out this keychain from Artsy Fartsy Mom (Mother's Day Keychain).
Handmade Candy Wrapper for Mom: this super easy homemade candy wrapper will make for a great gift for mom. It will take little time in preparing it and you can even add a child's picture to the candy wrapper. Check it out from Artsy Fartsy Mom (Candy Wrapper) here.
Looking for a great keepsake for your kids? Why not try these handprint lilies from The Gingerbread House, you can also add different colors as handprints. Such a cute idea for 2 or 3 year olds.
Another adorable mother's day craft is this handprint flower vase (on paper) by Simple Everyday Mom. She has done this in a very clever way too and it's an easy craft suitable for younger kids.
Here's a super cute paper tulip craft by Red Ted Art which toddlers will absolutely love!
The best part about this craft is that is is super simple to make and if you did a mom survey to ask which gifts mom love the most, they will most likely tell you, flower handmade paper crafts are best. Also, you don't fiddle with paint as much while making it. Sometimes, mothers don't feel like cleaning up. 😉
Cute Mother's Day Crafts
If you're looking for simple nature crafts, Growing Family did this right by adding such a fun flare and clever ideas to enjoy the outdoors with kids and do mother's day activities where the kids will enjoy the day just as well as the mothers, because let's face it, mothers aren't happy unless their kids are.
Am I right?! Kids love being outdoors too, which would benefit their bodies and health in more ways than we know.
Another easy mother's day craft is this fingerprint flower pot. What a great keepsake kids will love, you can even add special messages and hand prints on the pot to make it more personal!
This will make a great pot for an indoor plant. Want to make it more colorful? Add some pom poms and a picture of each child. Kids absolutely LOVE these ideas to wish their moms a happy mother's day.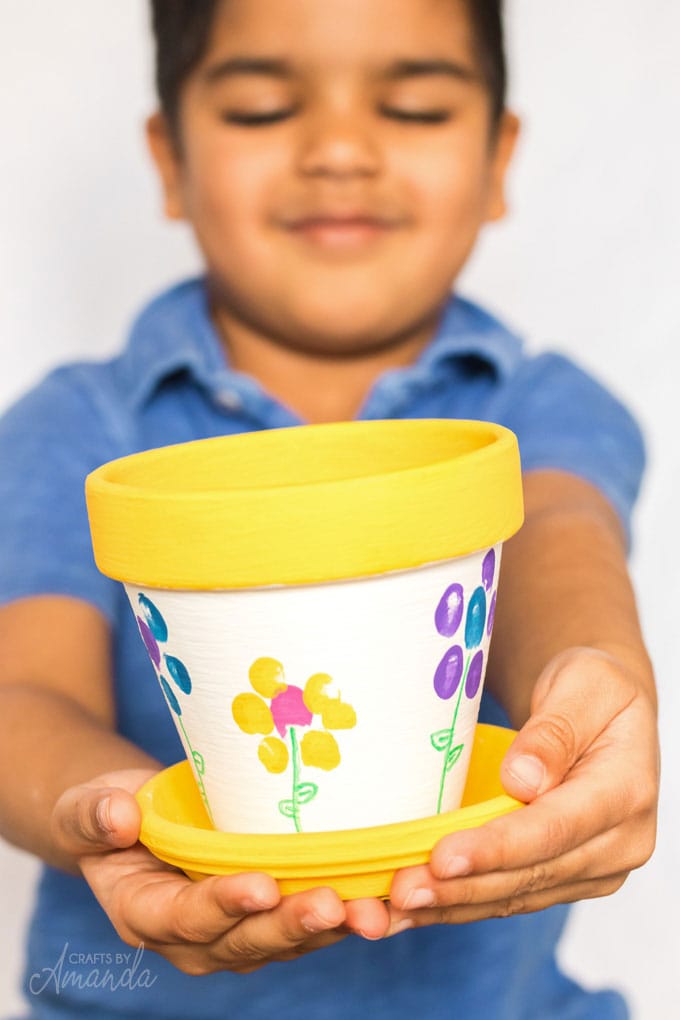 I'm a huge fan of homemade gifts. This paper plate adorable mother's day craft will be a hit! You can add it to a gift basket, it'll represent lots of love and it's a great process art activity.
Here's a great activity with finger prints, this simple heart arts craft from Kiddy Charts is perfect for toddlers and preschoolers. This is a simple activity and not many craft supplies are needed, which is perfect if you're in a rush, which we all are sometimes right?!
Here's another hand and foot print mother's day craft by a Little Pinch of Perfect, super cute and also very easy to make. Kids as young as toddlers will love it! You could even use edible paint to make this even more special and to include some sensory play while creating an easy mother's day gift.
More sensory play and crafts for toddlers you might like:
Every year on the third Sunday of May, people around the world celebrate Mother's Day. It is a day to honor and celebrate mothers for all that they do.
Mother's Day started in the early 20th century, but it wasn't until 1914 that President Woodrow Wilson declared it an official holiday.
Mother's Day is also celebrated in many other countries including Canada, Australia, New Zealand, and Japan.
The most important part to remember about mother's day is making precious memories with your kids, so try not to worry about the details as much as enjoying the moments you have with them.